"Go ahead and eat that extra piece of chocolate. Contour yourself thin!" Today I'm reviewing the Cocoa Contour Kit and the Melted Liquified Lipstick.Three reasons why I love Too Faced cosmetics: their amazing slogans, fun attitude and cruelty-free products. During my last visit to Sephora I couldn't resist adding two beauties to my stash.
TOO FACED COCOA CONTOUR KIT (€40.00)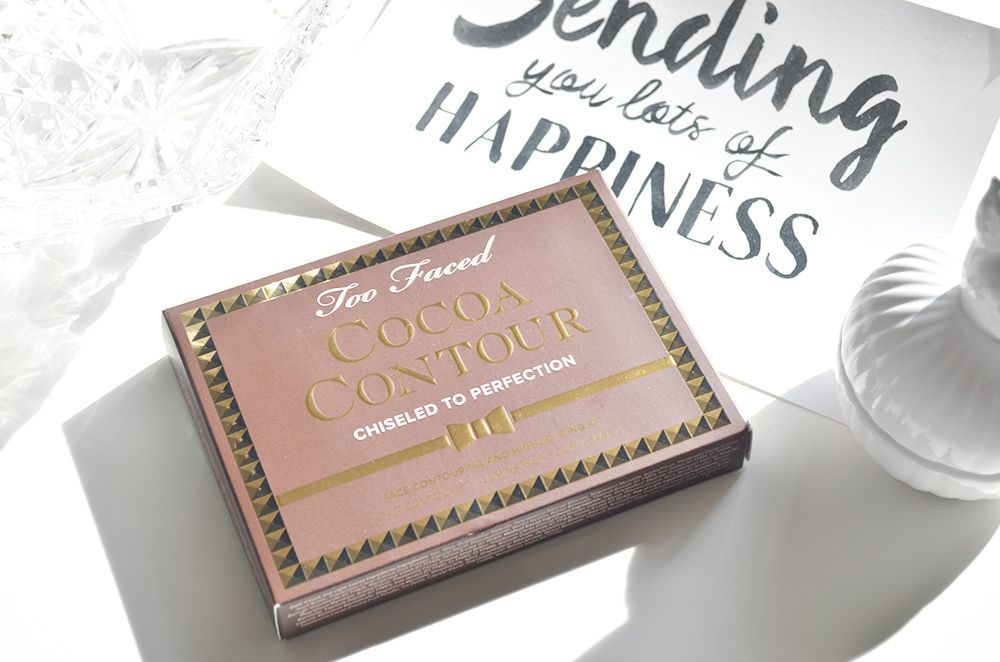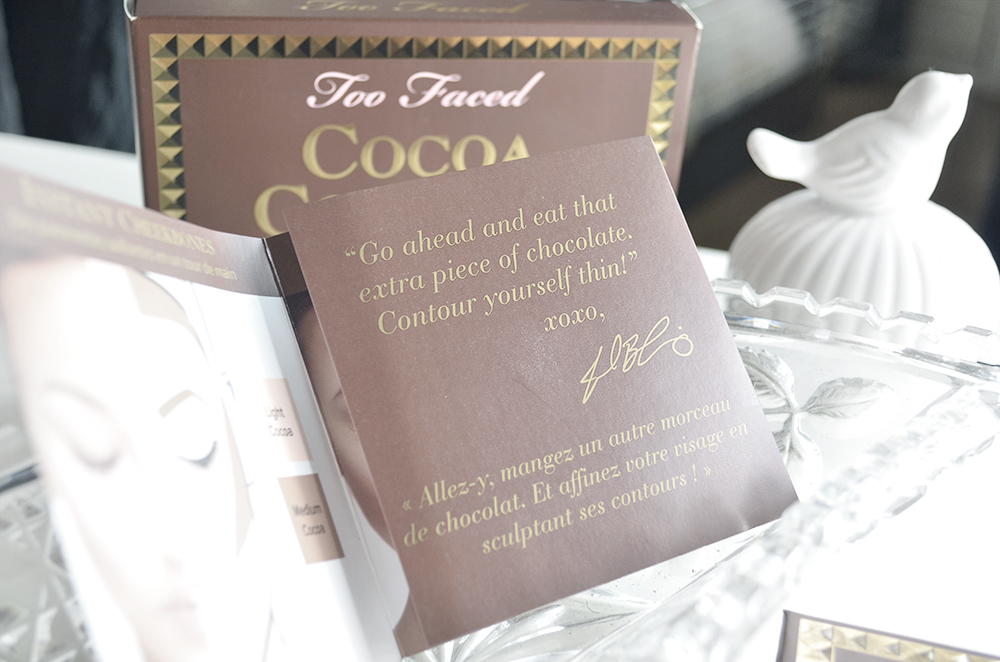 Lift cheekbones, look instantly slimmer, or sculpt like a celebrity with the Cocoa Contour kit.This gorgeous palette includes two sculpting shades, a perfect matte highlighter and a pop of light for that perfect contoured look. On top, a Contour Buki Brush and Glamour Guide with three gorgeous Contour looks make this set more than complete.
TOO FACED: WE HELP WOMEN HAVE FUN, PLAY, AND DREAM BIG
THE POWER OF CHOCOLATE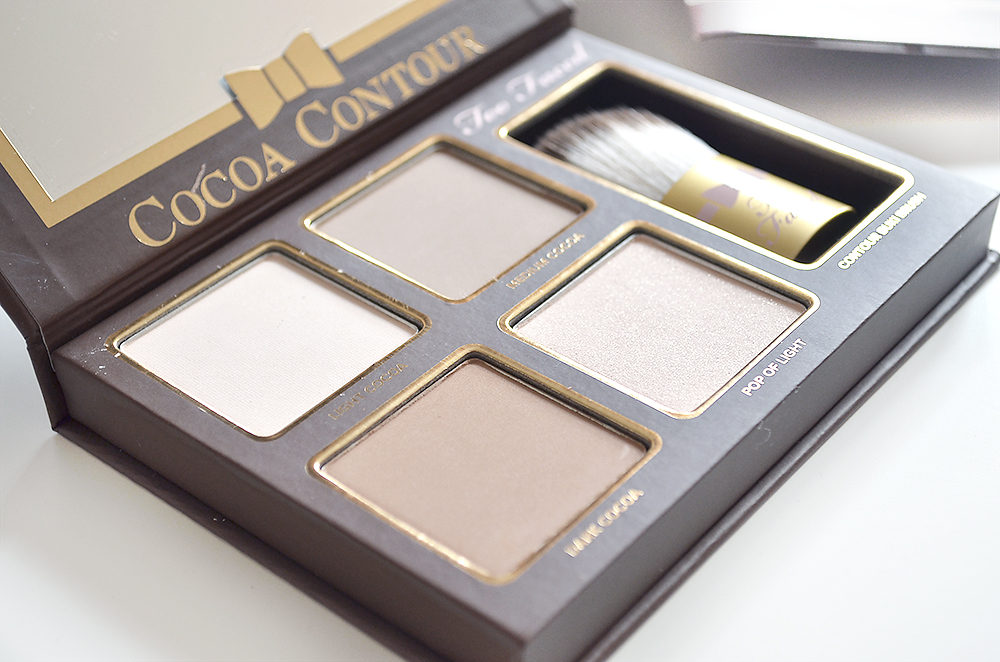 The Too Faced Co-Founder Jerrod Blandino was inspired to infuse antioxidant rich cocoa in makeup while getting a chocolate facial at a Hawaiian spa. He learned about the benefits of chocolate's benefits to the skin and included the ingredients in his line.
What I personally love about this Cocoa Complex, is the fact that these powders blend seamlessly with my skin. And OMYGOD the scent of chocolate while applying your makeup is seriously the best.
TOO FACED: WE NEVER INTIMIDATE. WE NUDGE, WE DON'T JUDGE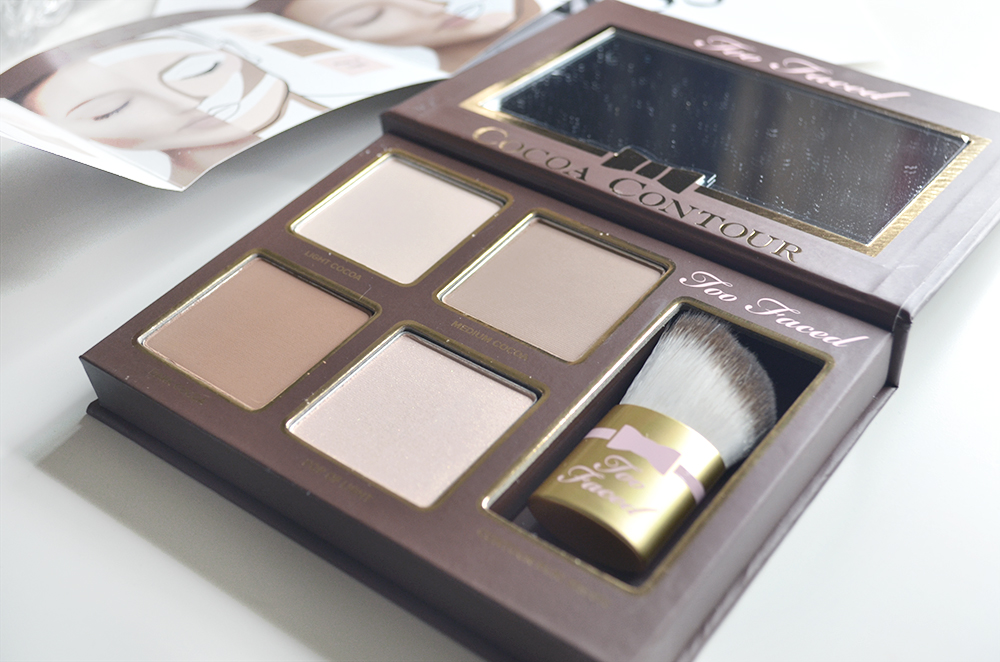 REVIEW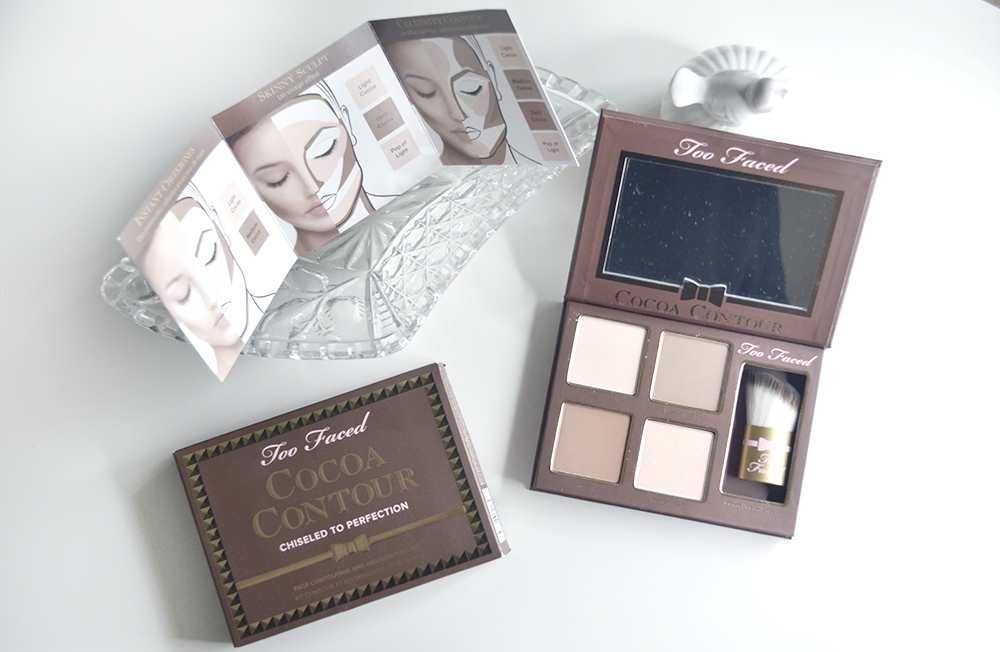 When it comes to contouring, we all know that there are thousands of contour palettes available atm. Mostly I've been using the Sleek palettes, in combination with a contour stick from Sephora. Since my skin is pretty oily, I found out I really – REALLY need power contour palettes. I love the matte-ness of the cocoa powder. They apply crazily smooth, with a velvety touch. My face seriously never looked better.
Medium Cocoa is my color to go – it has an ashy, cool undertone and works perfectly on my skin. Dark Cacoa seems too dark for me now, but might be good during summer. Light Cacoa is perfect to lighten up some areas in my face and Pop of Light is a very matte yet pigmented highlighter. Slightly too 'gold' for me, but very pretty for a night out!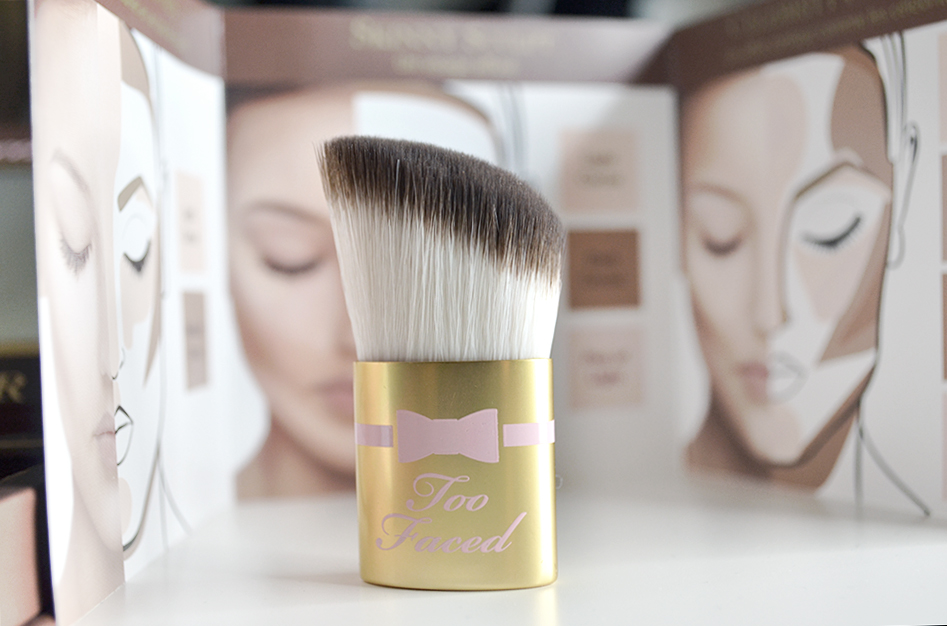 The product applies super well with the kit Contour Brush. I do recommend to not use the powder immediately on top of your foundation, but to add a translucent powder first to set in your 'liquid' makeup. When you do this, the powder literally 'slides' on your face and you can perfectly blend the shape in. I also really like the Glamour Contour Guide – even though we have enough YouTube video's online, it's always fun to have some booklets on your makeup vanity.
A big plus for me is that all the Too Faced products are vegan, and cruelty-free. Even though I do use products which aren't, I do feel so much better when I know that the products I use on my skin are 'good' products (NO HIPSTER THO)
TOO FACED MELTED LIQUIFIED LONG WEAR LIPSTICK IN MELTED CANDY (€21,00)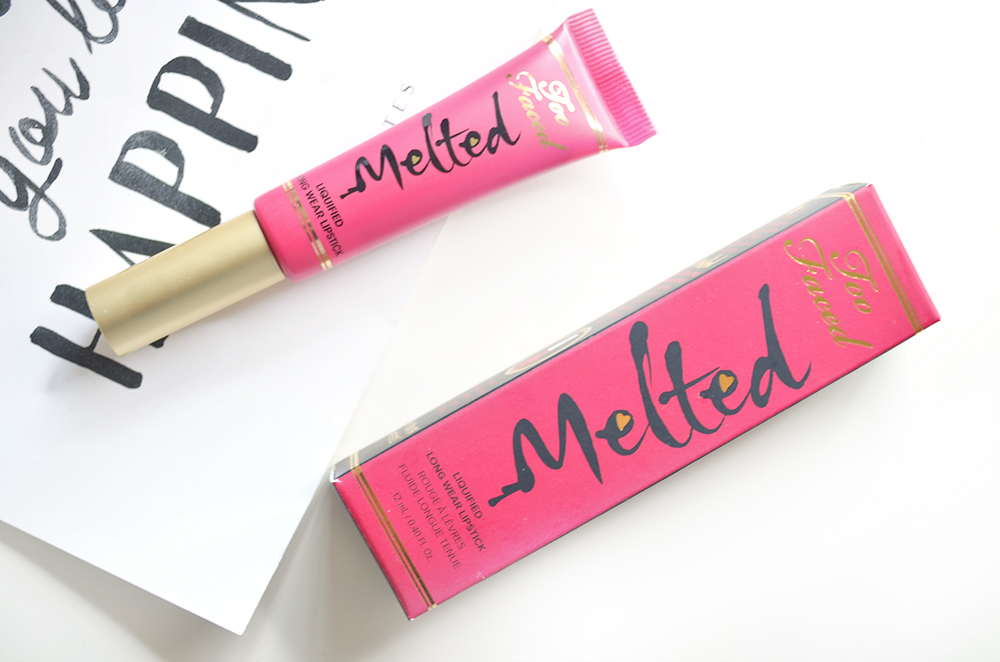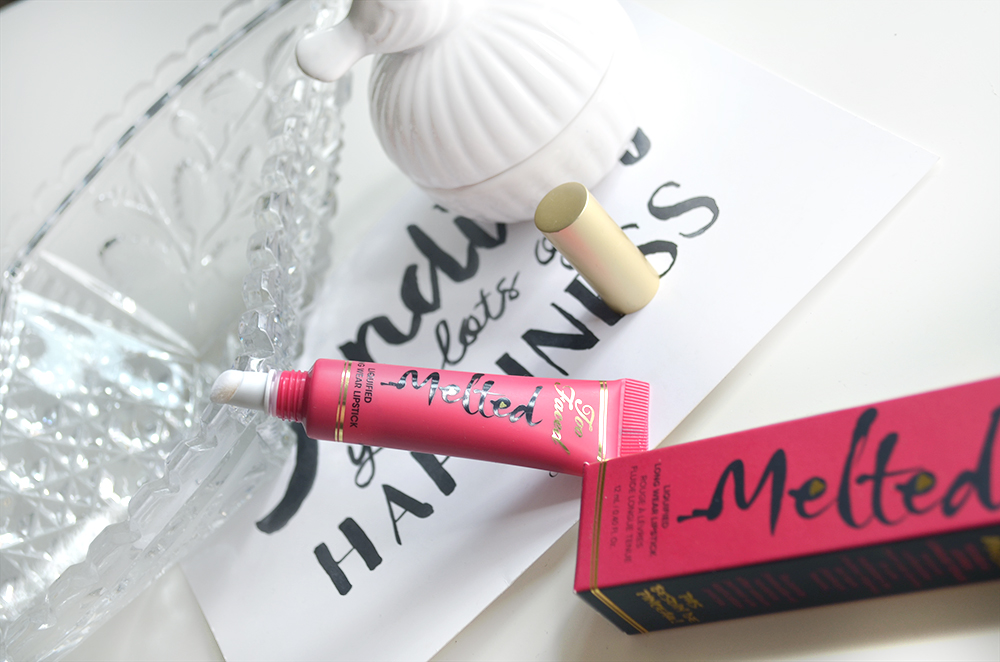 Melted Liquified Longwear Lipstick combines the best of three lip products: the staying power of a stain, the intense color of a liquid lipstick and the high shine of a gloss. The Co-Founder of Too Faced Jerrod Blandino seems like a very creative guy.
He had never seen lipstick more beautiful, intense, rich and glossy than when it's in its melted form in the cosmetic labs. That's why he created it, while keeping a comfortable, flexible and cushiony wear. The lipstick has an innovative, angled velvet tip that allows for precise application and contains 12 ml of product.
REVIEW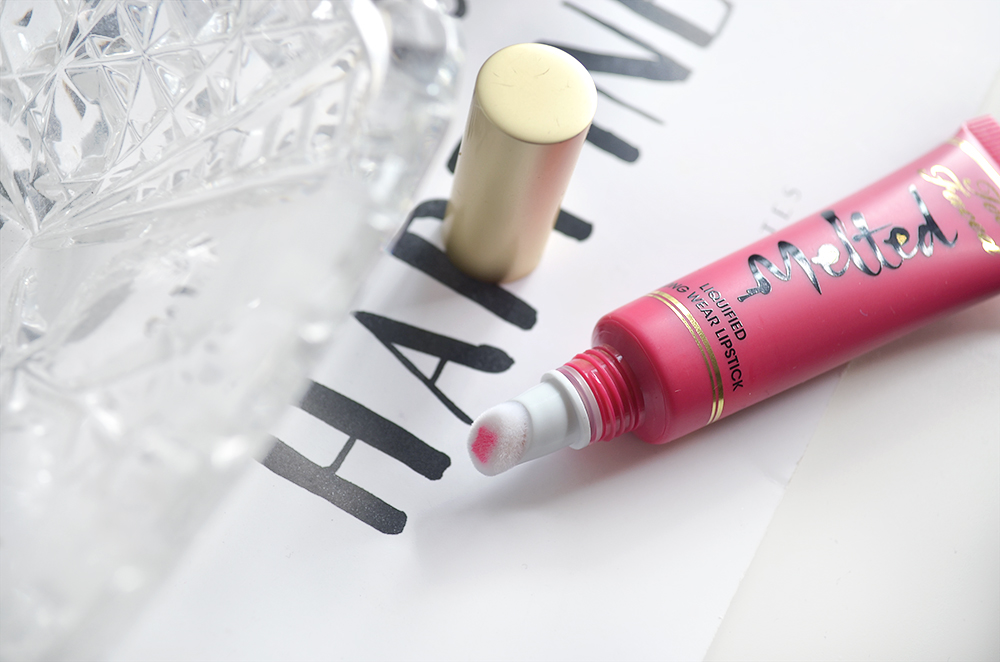 I have to admit, the color is GORGEOUS. Insanely pigmented and super comfortable to wear. The product applies very well without any brush, so I definitely love the angled shaped applicator. But, I do feel that it doesn't really have that staying power of a stain. To me, this lipstick is more a super intense gloss. If you love that kind of look, go for it. For me, I personally love more matte lipsticks that stay on forever.
I've created a video tutorial with the full Too Faced look! I'm still in the editing process so I hope to upload the final video soon. Stay tuned!
DO YOU OWN ANY TOO FACED PRODUCTS?